DataSweeper Intranet Service Center Edition
One of the DataSweeper line of reliable and proven total data-erasure products. Fully supports 13 data-erasure standards, including eight global standards, starting with the US Department of Defense protocol. Reliable data erasure with a simple three-step operation.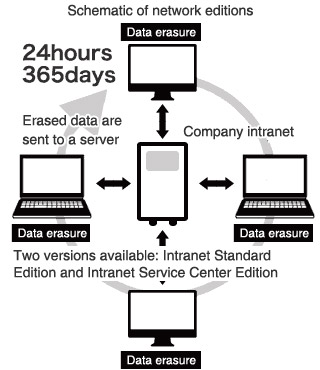 Features of DataSweeper Intranet Service Center Edition
Designed specifically for large offices and organizations with intranets.
Erases data on client PCs across an intranet from a server. The erased data are stored in the server. This IT-asset management software facilitates efficient centralized management of data erasure in organizations with large numbers of client PCs.
DataSweeper Intranet Service Center Edition Specs
Server: configuration and operating environment
Hardware requirements of ADC-specified Linux server
CPU: Celeron 2GHz or higher
Memory: 512MB or more
Hard disk capacity: 20GB or more (recommend hardware RAID for backup)
Interface: USB port x 1, LAN x 1
OS : ADC-specified OS (please inquire for details)
Client: operating environment
PC/AT-compatible machine with LAN port (DOS/V x86 architecture)
Memory: 64MB
OS: Not OS dependent
* ADC will set up the program for use on networks